Posted:
September 18th, 2011 |
Author:
admin
|
Filed under:
Berlin
,
Movie
,
NYC
|
Comments Off

(Source: Official movie website, http://bit.ly/pjAjjv)
"Centered on a rare interview that director and friend Tamra Davis shot with Basquiat over twenty years ago, this definitive documentary chronicles the meteoric rise and fall of the young artist. In the crime-ridden NYC of the 1970s, he covers the city with the graffiti tag SAMO. In 1981 he puts paint on canvas for the first time, and by 1983 he is an artist with "rock star status." He achieves critical and commercial success, though he is constantly confronted by racism from his peers. In 1985 he and Andy Warhol become close friends and painting collaborators, but they part ways and Warhol dies suddenly in 1987. Basquiat's heroin addiction worsens, and he dies of an overdose in 1988 at the age of 27. The artist was 25 years old at the height of his career, and today his canvases sell for more than a million dollars. With compassion and psychological insight, Tamra Davis details the mysteries that surround this charismatic young man, an artist of enormous talent whose fortunes mirrored the rollercoaster quality of the downtown scene he seemed to embody."
(Source: Official movie website, http://bit.ly/pjAjjv)
New York Times Interview with the filmmaker, Tamra Davis (Beastie Boys' Mike D's wife): http://nyti.ms/roMgLc
I particularly like the way how the movie gives some insight to the New York downtown art scene at that time. Today's Berlin is often compared to New York in the 80s, I definitely understand that notion better now.

(Source: Screenshot,all rights reserved)

samo©
(Source: Velvet Howler, http://bit.ly/n5SN6C)

(Source: Whitney Museum of American Art, http://bit.ly/ovbZ1p)

(Source: Whitney Museum of American Art, http://bit.ly/nxFQol)
More Artwork: http://bit.ly/pXd0zm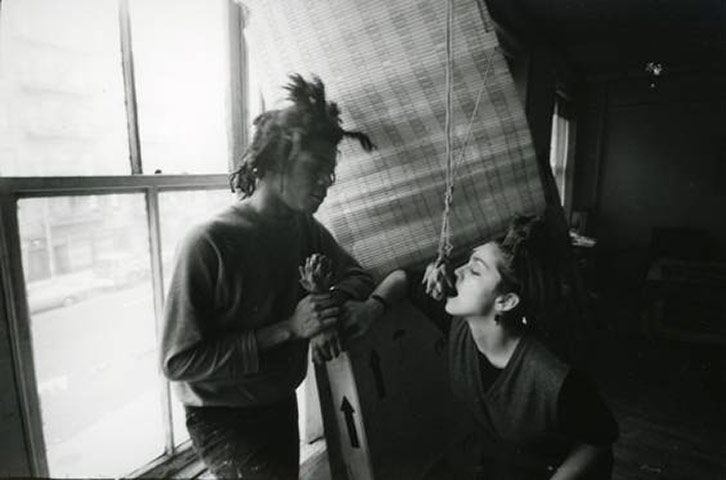 Basquiat and Madonna
(Source, The Guardian, http://bit.ly/pXtS6V)

Feature in The New York Times Magazine (Read here: http://bit.ly/r3COnn)
(Source: Screenshot,all rights reserved)

Basquiat's band Gray member Vincent Gallo
(Source, Co-CO Blog, http://bit.ly/nl0P4v)
Vincent Gallo, "When" http://open.spotify.com/album/1X94MbbHmlffXdGeAyxhNp

Inspiration Picasso's Guernica
(Source, Wikipedia, http://bit.ly/qVlmK8)

Inspiration Gray's Anatomy of the Human Body
(Source, Bartleby, http://bit.ly/mXPppk)

New York Subway Train in 1986
(Source: Blog, http://bit.ly/mZrZh3)
Watch on HULU (US only):
http://www.hulu.com/watch/255608/jean-michel-basquiat-the-radiant-child
---